Sharat Kamal Achanta, does this ring a bell? 9 times national table tennis champion who broke the earlier record and has represented India to the world so many times, he is Sharat Kamal Achanta. In this article, we will make an attempt to cover his entire life so far. So for more details on this topic please be with us.
The early life of Sharath Kamal Achanta

In 1982 on 12th July a child was born in a south Indian family. He was given the name Sharat Kamal Achanta. Sharat Kamal already had a sports background. He was introduced to table tennis when he was only four. His father and uncle played an important role to make Sharat Kamal what he is today. His father and uncle both were table tennis players and his younger brother is also playing at the state level.
His father was his first couch and his uncle was his mentor. It is said that Sharat Kamal could not accept the defeat ended up with an argument with his opposition. There his uncle helped him to control his anger without showing it to the opposition.

Sharat Kamal started his carrier as a table tennis professional when he was on the 10th standard. After completing 12 standards he had to choose between engineering and table tennis. It was a difficult time for him because on the one hand it was table tennis he liked to play and on the other hand, his engineering career what common people choose to have a secure and wealthy life.
He chose table tennis and which has been proved as the correct decision. But he did not leave education in the middle because he was aware of the fact that if he could not do well in table tennis then also there will be a chance left for him to earn his living. While graduating from Loyola college, he started playing at the state level.
Sharath Kamal's Career

In the beginning, though he had cleared the state level very easily he had to struggle for the national level to become number one. At the state level, his performance was not consistent. It was 2003 when Sharat Kamal became the national table tennis champion. At the international level, he grabbed his first gold medal in the men's single in 2004 at the commonwealth game organized in Kuala Lumpur.
In 2006 again he grabbed another gold medal at the Melbourne commonwealth game by defeating Australian William Henzell in the final. Later this year he participated in the Asian game at Qatar but had to come back with an empty hand. Next year in 2007 he lifted the Pyongyang invitational tournament trophy and India wrote his name for the very first time in the list of winning nations. Sharat Kamal bagged another gold medal at the commonwealth game organized in Delhi in 2008.

His greatest performance was in the 2018 gold coast commonwealth game where he won 4 medals in the men's team, men's doubles, men's singles, mixed doubles. The same year he participated in the Asian game and bagged two bronze medals.
Sharath Kamal in Olympics

Coming to Olympics he represented India 4 times in Olympics respectively in 2004 Athens,2008 Beijing, 2016 Rio, and 2020 Tokyo. He was the only one who was qualified for the 2008 Olympics from his category. The 2020 Olympics which happened in 2021 due to pandemic Sharat kamal secured his participation in march 2021.
Unfortunately, Sharat Kamal had to accept defeat from world no 3 Legendary Ma Long. Ma Long is a very strong contestant who did not give any chance to turn the game in Sharat kamal's favor. Although, Sharath kamal managed to beat him in one set and lost another set by 13-11. Giving such a challenge to Ma long is appreciable on its own. Thus he ended up without writing his name in Olympic history.
Sharath Kamal's Performance in International tournaments
There were ups and downs in his career from 2008 to 2015. Sharat Kamal wanted to explore more and he wanted exposure to the world. So he left with the hope that he will be renowned worldwide. He teamed up with a Sweden league and played several games.
Sharat Kamal helped India to bring home several trophies during his journey for the very first time, one of those is Egypt open where he defeated li ching from hong kong in the final. In 2010 us open he fought against Thomas Keinath and got hold of the trophy.
Set backs in Sharath Kamal's Career
Apart from success, there were also down parts of his career. He was not qualified for the 2012 Olympics. In 2015 he proved himself again in the Asian Olympics qualification final, defeated Noshad Alaminan, and got selected for the 2016 Olympics. He also defeated 4 top 20 players in that same game which helped him hugely to regain his confidence. Unfortunately, he was knocked out in the very first game in 2016 olympics.
Sharath Kamal's World Table tennis ranking
Although Sharat kamal's present rank is world no. 32 in 2021, Sharat kamal's all-time best ranking is world no 30
Sharath Kamal's Personal Life

Moving on to his personal life, he is very close to his family. He is married and a father of two children. He had been working with the Indian oil corporation. Now he is living in Germany with his family. Sharat Kamal took the initiative by saying that government should take this game more seriously and this game should be given acknowledgment so that youth come one step forward and choose this game and make India proud to the world.

Sharath Kamal's Accident

In 2015 Sharat kamal was playing the world championship in China. A game was playing on. Sharat Kamal was very close to winning but a tragedy happened. He got a fracture. The doctor told him to leave the game. The doctor also told him that if he plays then he may lose the limb and will become lame for the rest of his life. It was that deep injury. But he was soliciting for a chance to finish the game and he managed very well, was playing with one leg, and eventually won the game. This proves his motivation towards the game.
Sharath Kamal's Awards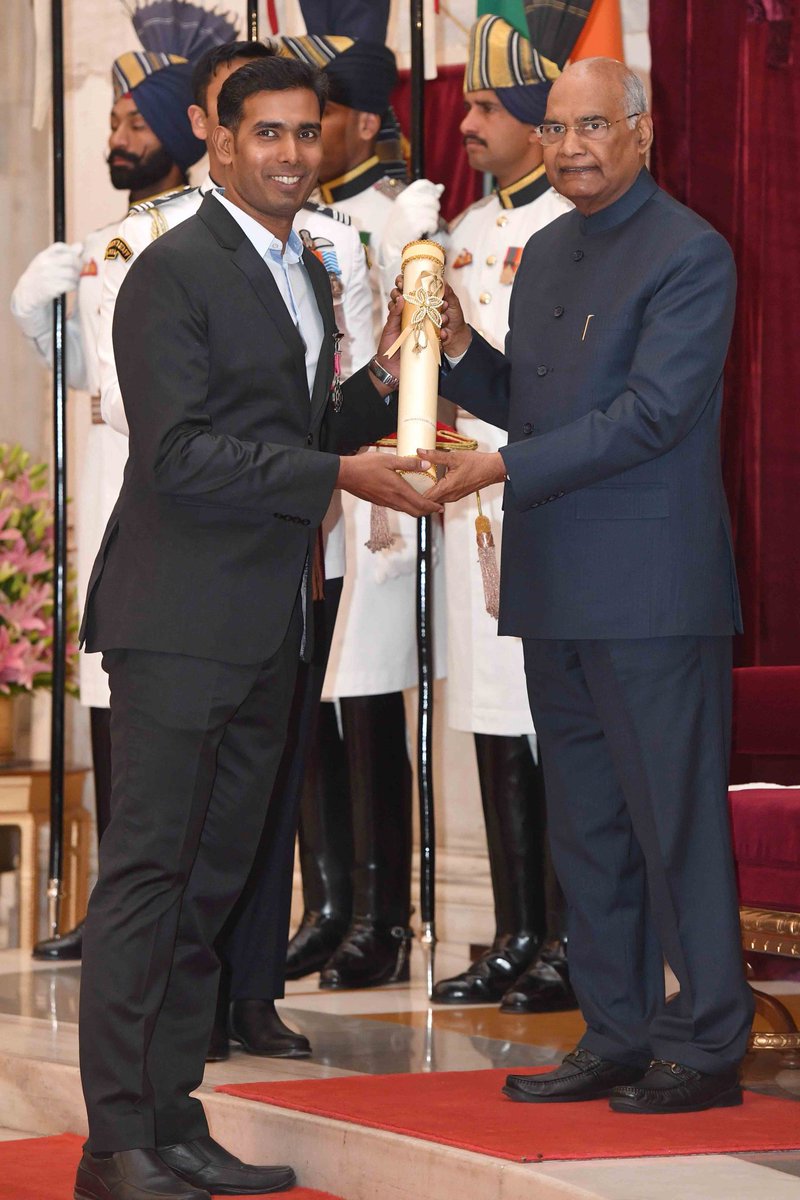 The government of India honored him with two awards. One is the highest in the sports which is the Arjuna Award. He was given the Arjuna Award in 2004 and later Padma Shri in 2019.